The Mickey Rooney Show
(1954-55) Cast: Mickey Rooney, John Hubbard, Regis Toomey, Claire Carleton. The misadventures of an eager but somewhat bumbling young actor who gets a job as a page at a television studio in Hollywood while trying to break into show business. Aka. "Hey Mulligan!"
---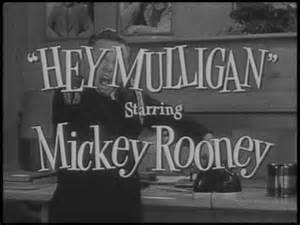 Vol. 1: The Bronc Buster 10/23/1954 Mickey's girl Pat falls for a tall Texan and Mickey goes West to win her back.
The Guardian 4/23/1955 Mickey becomes the guardian of a beautiful "baby" and her huge inheritance.
Diamond in the Rough 11/20/1954 Fleeing jewel thieves stash the loot in a golf ball which Mickey's using in the company tournament.
The Moon or Bust 9/4/1954 Mickey and his pal Freddy launch a home-made space ship to the moon. They land in outer space, but only cows around.
Vol. 2: The Producer 3/12/1955 Mickey unwittingly hires a chimp to star in company show.
The Executive 11/27/1954 Mickey learns that his size may be impeding his growth in the business world.
The Other Woman 11/6/1954 Mickey adopts the guise of an Arabian prince to woo away "the other woman" who's about to break up his boss's home.
The Lion Hunt 10/16/1954 Mickey and Freddy join a city-wide hunt for an escaped lion.
Vol. 3: Pilot Show 8/28/1954 Mickey's ambition to become an actor leads him to join a small theatre group.
Disc Jockey 9/11/1954 Mickey auditions for a job as an after-hours disco jockey and finds himself mixed up with a robbery gang
Double Trouble 9/18/1954 A visiting French author believes his life to be in danger. A marked resemblance between the man and Mickey....
Grunion Hunt 10/2/1954 Because his steady girlfriend can't make it, Mickey takes a blind date out. The two plan an unusual fishing trip.
Vol. 4: Tiger Mulligan 10/30/1954 Mickey Mulligan enters the squared circle for a local policeman boxing bout.
Cinderella Nell 2/12/1955 Mickey delivers secret questions for a big TV quiz program.
Star Struck 2/19/1955 When a glamorous star makes a personal appearance at the network, each page vies for the opportunity to chaperon her.
Average Man 2/26/1955 The network launches a search for the average TV viewer.
Vol. 5: Friends and Foes 3/5/1955 Mickey and Freddie part on the 21st anniversary of their friendship after an argument about howthey originally met.
House Party On his day off, Mickey decides help his mother clean house, the ensuing events leave his mother limp.
The Giant Killer 4/2/1955 Mickey tells the giant's side of the story in a dream version of "Jack and the Beanstalk".
Miss IBC Mickey and Freddie become involved in a beauty contest sponsored by the network.
Vol. 6: Big Business Mickey has delusions of becoming a business tycoon.
The Seance 12/4/1954 Mickey Mulligan and his pal Freddie, have a "spirited" adventure when they try to save the family domicile.
The Voice 12/11/1954 An allergy test has strange results when Mickey blossoms into another Mario Lanza.
Fan Mail 12/25/1954 Mickey plans to help out when his boss is called on the carpet for producing a low rated TV show. Mickey learns he represents the average TV viewer.
Vol. 7: Scoop Mulligan 1/1/1955 Mulligan's in the millions again as he locates a long-missing financial wizard. It may be the scoop of the year!
Basketball Star 1/15/1955 Mickey tries valiantly to be chosen as center on the network basketball team, but is bypassed because he is too short.
Wedding Gift 1/22/1955 Mickey is entrusted with money from employee funds to purchase a wedding present.
Mickey and the Mummy 1/29/1955 Mickey and his pal Freddie get some unexpected help from a long-dead Egyptian Queen
Vol. 8: Seven Days to Doom 2/5/1955 Mickey learns that he has only seven days to live.
The Fur Coat 1/8/1955 Loving son Mickey wants to surprise his mother with a fur coat so he starts raising chinchillas.
Also on DVD #8:
Dick Van Dyke Show: A Man's Teeth Are Not His Own Dec. 19, 1962.
Give Me Your Walls Feb. 27, 1963
---