Mr. and Mrs. North
(1952) Jerry (Richard Denning) and Pamela North (Barbara Britton) live in Greenwich Village in New York City. Jerry is a mystery magazine publisher who thinks he is a good amateur detective. He and his wife investigate various crimes and solve them before the police do.
---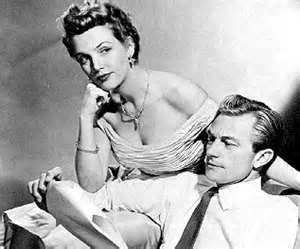 Vol. 1: Weekend Murder (10/3/1952) The Norths visit their friend, actress Lily Storm, in her country home for the weekend. Upon arrival, they discover the housekeeper is missing and a dead body in the closet!
Till Death Do Us Part (10/10/1952) Pam and Jerry's wedding anniversary celebration gets interrupted by a woman dressed in a bridal gown bursting into their apartment and dropping dead.
House Behind the Wall (1/16/1953) The Norths get a flat tire one dark and stormy night out in the country. Upon seeking aid at a desolate house, they are drawn into a murder plot.
The Ungrateful Killer (3/2/1954) A wounded killer, running from police and underworld, forces the Norths to drive him to Montreal.
Vol. 2: Phantom at the Wedding (3/23/1954) Who has a motive to want to kill attorney and friend to the Norths', Robert Tyler? After several failed murder attempts, Tyler still wants to go forward with his marriage to Susan.
The Silent Butler (12/26/1952) Pam and Jerry hire a butler who is suspected of the murder of the butler in the next apartment.
Trained for Murder (6/12/1953) The Norths go to a training camp so Jerry can interview the up-and-coming prizefighter, Vince Mc
Flight 217 (3/9/1954) The Norths search for a missing author in Mexico City, but decide to go back home, booking themselves aboard the next flight to Miami. Time bomb on board.
Vol. 3: Murder for Sale (4/20/1954) A jealous husband arranges for his wife's lover's murder and then has second thoughts.
Two Faced (6/5/1953) Elsie Dargon, a manicurist, recognizes a wanted bank robber and confronts him with blackmail.
Breakout (4/17/1953) The Norths visit the state penitentiary to meet with the notorious racketeer, Dave Gerard. In an escape attempt they are taken hostage.
Million Dollar Coffin (7/3/1953) The Norths accompany Mr. Sykes out of town to exhume the grave of Sykes' ancestor who was buried with valuable, historical documents. They find a million dollars in stolen money!
Vol. 4: A Good Buy (10/17/1952) Pam buys an old trunk at an auction which just happens to contain a corpse.
On the Rocks (1/2/1953) A pleasant weekend at the country estate of a novelist is spoiled by the poisoning murder of a publisher's wife.
Pretty Baby (4/3/1953) A baby left in Pam's care is kidnapped.
Formula for Trouble (1/9/1953) Pam takes a book on weaving out of the library which just happens to have a secret formula tucked into it.
Vol. 5: The Beauty Prize (1/23/1953) Curious about a beauty contestant who could easily be mistaken for her twin, Pam finds herself backstage at the Miss Venus contest and filling in.
Dead Man's Tale (11/21/1952) When Jerry Lawson, a bookmaker working out of Dave's Cigar Store, is found dead, the most obvious suspect, Nick Magnus, fights to clear his name.
Comic Strip Tease (12/5/1952) Mrs. Helsir needs help with her son who has come under the influence of a young gang of thugs. The Norths get a comic strip artist to write in the story.
Reunion (2/9/1954) While attending a college alumni reunion, the Norths become aware of a blackmail attempt to stop production of the atomic bomb. Pam is held hostage at gunpoint.
Vol. 6: Forgotten Grave (11/14/1952) On stormy night the Norths stumble on a creepy mansion with "Help...murder" on the window.
Loon Lake (2/16/1954) The Norths catch more than trout when a vicious criminal hides at their vacation spot.
Terror (2/13/1953) A crackpot doctor with a Jekyll-Hyde complex gives the Norths a night of terror.
The Nobles (12/19/1952) Pam becomes a volunteer nurse for seniors. Her first client has a homicidal family.
Vol. 7: Hot Mink (5/1/1953) The Norths get involved in a con game after a mink coat is delivered on Pam's birthday.
Surprise (11/28/1952) Pam and Jerry attend a surprise party where one of the guests get murdered.
Suspected (5/11/1954) The Norths take in a woman who has been accused of murdering her rich, elderly employer.
Model for Murder (6/26/1953) Don Santiago, the suave yet cold head of the modeling school in which Pam just enrolled, has been murdered with a fencing epee.
Vol. 8: Man Who Came to Murder (4/10/1953) To celebrate their fifth anniversary, Pam and Jerry return to Honeymoon Inn where a secret regarding a marriage license culminates in murder.
The Mark of Hate (5/18/1954) A suicidal invalid, Govrdon Lane, is bitter about his life and jealous of his wife's new lover.
Nosed Out (11/7/1952) After a day at the racetrack, the Norths find a dead man in the trunk of their new car, later identified as the jockey, Eddie Mears.
The Frightened Bride (2/27/1953) The Norths and their newly married friend Helen, drive out to her recently acquired country home. However, all is not what they expected when Aunt Clara is found missing.
Vol. 9: These Latins (5/1/1953) The Norths tangle with a fiery novelist. Katy ("High Noon") Jurado makes her TV debut in this episode.
Where There's a Will (11/28/1952) The Norths find their neighbor brutally beaten on the eve of his birthday.
The Third Eye (5/11/1954) The Norths go shopping at Suzi's Gown Salon where murder is high- fashion and find a model dead.
Salt in His Blood (6/26/1953) When the Norths try to help a discharged teenage sailor they run smack into a waterfront murder which might send the boy to prison.
Vol. 10: Target (4/10/1953) Pam and Jerry plan to spend a quiet day at the beach and run into lunatic sniper.
Homicide Limited (5/18/1954) The Norths help investigate the circumstances surrounding the death of a beautiful blonde killed on a train going from Florida to New York.
Shrinking Violet (11/7/1952) A young murderess poses as Pam's cousin.
Placid Affair (2/27/1953) Jerry is accused of being an accomplice to a murder when a gold- digging nurse talks him into doing a favor for her.
Vol. 11: Dying to Live (3/13/1953) Pam and Jerry find themselves enmeshed with income tax experts, a hundred thousand dollar swindle and a murder.
Climax! (5/25/1954) A psychotic killer, whose victims are always sailors, challenges Pam and Jerry's sleuthing talents.
Death Doll (3/16/1954) The Norths get involved with a half-crazed woman, who murders her explorer husband and plants suspicion on a servant with the help of a voodoo doll..
Murder on the Midway (6/19/1953) A fortune-teller's husband is murdered and suspicion centers around the man's step-son.
---