More TV Westerns
These miscellaneous TV episodes are available. These are the only episodes from the various series that are in the public domain.
---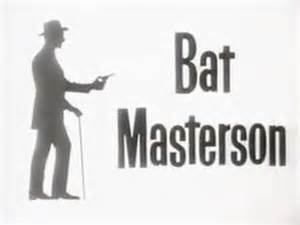 Bat Masterson

Stampede At Tent City
Bat is summoned by an old flame to the town of Prosper, where her new beau is about to be lynched for killing a man. Bat manages to stop the hanging as he attempts to get to the truth behind the murder. Stars Gene Barry.
The Fighter
Bat steps in to assist a boxer who's being mishandled by his crooked manager. After winning the fighter's contract in a poker game, Masterson vows to get him his first fair fight.
The Deputy
The Return Of Widow Brown Amelia Brown unexpectedly returns to Silver City with her son eight years after her husband was lynched for his role in a heist. Questioning the motive for her return, Clay decides to investigate whether it may have something to do with the stolen loot that was never recovered. Stars Henry Fonda.
The Hard Decision Deputy McCord is kidnapped by outlaw Alvy Burke, who demands that his brother Jimmie be released from prison in exchange for the hostage lawman. Marshal Fry has to decide what's more important - the hanging of a convicted killer or the life of his deputy.
Wagon Train Alias Bill Hawke Assistant wagon master Bill Hawks makes an excursion to a desert town in search of an old friend. Upon arrival, he finds the man's property under the control of the townspeople, who are using the land to drill for precious water. Greeted with hostility, and given no decent explanation for the whereabouts of his Native American friend, Hawks begins to suspect some sort of conspiracy. Dr. Denker Story The wagon train encounters a terrified boy who has just witnessed the murder of his father by a group of marauders. Young Billy is taken in by Bill Hawks and Flint, who endeavor to help him recover from his trauma. Bitter Civil War veteran Ed Beaufort attempts to help the boy by preaching the power of vengeance. After welcoming traveling musicologist Dr. Denker to the group, it seems Billy may have found an outlet for his grief in the joy of music; but when his true connection to Dr. Denker comes to light, Beaufort's belief in revenge may win out.
Malachi Hobart Story 11/19/1957. Duke has a chance meeting with Malachai Hobart, a man of God who preaches kindness and brotherly love. Parting ways with a glowing opinion of the charitable preacher, Duke soon learns that he is actually a con man using religious faith as a way to bilk believers out of money.
---