Space Patrol
(1950-55) Commander Corey and youthful Cadet Happy roam the 30th century universe in their ship "Terra" fighting super-villains Mr. Proteus and Prince Baccarratti and other bad guys. Captured baddies get zapped with the Paralyzer, then get reprogrammed with the Brainograph.
NOTE: Space Patrol was broadcast live. Copies were preserved on 16mm kinescopes that were shot off the TV monitor in the production facility, and these 16mm prints were later syndicated to other parts of the country. These are the best known surviving copies of the listed episodes. Some are better than others and some have sound issues, but they are "watchable."
They are only offered for sale as Mpeg2 digital files @ the special price of $3 per episode. Episodes will be supplied on USB sticks or external hard drives.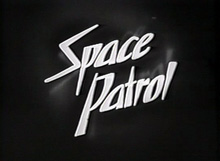 Episodes numbered in the order they were first broadcast on the dates noted.
27) Lost City of the Carnacans 6/30/1951
28) Deadly Weapon 7/7/1951
29) Legend of Wild Man's Ridge 7/14/1951
30) Way Station to the Stars 7/21/1951
35) Big Wheel Named Ferris 8/25/1951
94) Errand of Mercy 10/11/1952
102) The Human Trap 12/6/1952
104) The Deadly Sunbeam 12/20/1952
113) Operation Rescue 2/21/1953
118) Laughing Alien 3/28/1953
132) Theft of the Terra Five 7/4/1953
133) Mysterious Ocean in Space 7/18/1953
140) Mystery of Planet X 8/29/1953
141) Trap on Planet X 9/5/1953
151) Castle's Destruction of Planet X 11/14/1953
152) Valley of Illusion on Planet X 11/21/1953
157) Mystery of the Missing Asteroids 12/26/1953
158) Phantom Space Pirate 1/2/1954
159) Space Vault Robbery 1/9/1954
160) Pirates Escape 1/16/1954
161) Amazons of Cydonia 1/23/1954
162) Monsoon Trap on Cydonia 1/30/1954
164) Deadly Radiation Chamber 2/13/1954
165) Plot in the Atomic Plant 2/20/1954
166) Blazing Sun of Mercury 2/27/1954
167) Big Proteus Swindle 3/6/1954
168) Escape of Mr. Proteus 3/13/1954
169) Mr. Proteus and Poison Gas 3/20/1954
170) Revenge of Mr. Proteus 3/27/1954
171) Capture of Mr. Proteus 4/3/1954
172) Baccaratti's Z Ray 4/10/1954
174) Evil Spirits of Great Thunderbird 4/24/1954
175) Fall of Kingdom of Zarra 4/31/1954
176) Prisoners of Giant Comet 5/7/1954
177) Demon Planet 5/14/1954
178) Lost in Galactic Space 5/21/1954
179) Hidden Treasure of Mars 5/28/1954
181) Trapped in Pyramid 6/11/1954
182) Underwater Spaceship Graveyard 6/18/1954
184) Terra, the Doomed Planet 11/27/1954
189) Giants of Pluto 3 10/2/1954
190) Fiery Pit of Pluto 3 10/9/1954
192) Theft of Rocket Cockpit 10/23/1954
194) Danger ... Radiation 11/6/1954
195) Exploding Stars 11/13/1954
198) Revenge of the Black Falcon 12/4/1954
205) Androids of Algol 1/22/1955
206) Double Trouble 1/29/1955

---