Racket Squad
This police drama that exposes confidence rackets debuted on June 7, 1951, and ran until Sep. 28, 1953. Actual police cases describe how shady characters fleece unsuspecting people of their money. Reed Hadley stars as Capt. John Braddock, who both introduces each story and plays a part.
---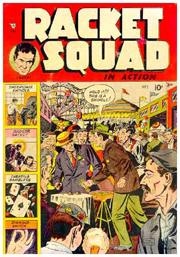 Vol. 1: Kite High 9/6/1951 Man in crooked card game keeps winning, but why?
The Bill of Sale Racket 11/29/1951 Two cons buy gas stations with bum promissory notes.
Romance Unlimited 8/10/1953 Returning soldier finds his wife has married 9 others for their paychecks.
His Brother's Keeper 2/26/1953 Pan handling bunko game.
Vol. 2: Family Tree 8/21/1953 Captain Braddock investigates claims of cons and swindles made by rich socialites.
The Soft Touch 5/1/1952 Two groups of con artists go after each other.
A Place for Grandma 6/12/1952 Captain Braddock investigates a woman who is conning people in a retirement home.
The Salted Mine 11/15/1952 Captain Braddock risks his life to help a friend how has been coned out of money on a salted gold mine.
Vol. 3: Elephant in Stockings 12/12/1952 Captain Braddock tries to take down a mob boss.
The Hearse Chaser 2/28/1952 Capt. Braddock tries to locate a pair of swindlers who are trying to fleece a recently widowed lady out of three thousand dollars for a worthless portrait of her late husband.
Home Wreckers 3/13/1952 A man impersonating a lawyer swindles money from divorcing couples.
The System 1/1/1953 Captain Braddock investigates a man selling a fake system for betting on horses.
Vol. 4: The Knockout 12/27/1951 Captain Braddock looks into a gambling scam.
The Case of the Dancing Lady 2/12/1953 A newly married woman is coned by the owner of a dance studio. Her husband goes to see Captain Braddock.
The Case of the Match Maker 3/25/1952 Fake stamp collector romances wealthy widow.
Accidentally on Purpose 1/3/1952 'Square Deal' Danny sells a couple to be a used car with out breaks. Captain Braddock investigates the dealership.
Vol. 5: The Long Shot 7/3/1952 Another con falls into Captain John Braddock' s lap. A gang of thugs sell fake tickets for the Irish Sweepstakes.
Desperate Money 1/24/1952 Captain Braddock investigates a complaint made by an immigrant tailor who is beaten by a loan-shark.
Check and Double Check 9/4/1952 A gang uses kids and stolen checks to get money and merchandise from stores and it's up to Captain Braddock to stop them.
Figures Don't Lie ("Sale Value") 7/20/1953 An auditor falsifies books of successful companies so as to buy them cheaply.
Vol. 6: Smoke Eater 8/17/1952 Aka. "The Strange Case of James Doyle" Fake fire captain extorts money so businesses are not shut down.
Anyone Can Be a Sucker 7/31/1952 Girl takes bookie, who seeks revenge.
Blessed Expense 11/20/1952 Fradulent insurance for pregnancy.
The Staff of Life 3/27/1952 Fake wheat contest to steal wheat.
Vol. 7: One More Dream 8/28/1952 Captain Braddock investigates a scientist who claims to have invented a 'Mystical Power Machine'.
The Case of the Miracle Mud 9/20/1951 Mud on a farm appears to have healing powers. Will the gullible town council buy it?
Babies for Sale 11/8/1951 Captain Braddock investigates a false adoption scam.
Heaven for Sale 7/5/1951 Captain Braddock investigates a medium that uses fake seances to bilk money out of people.
Vol. 8: Two Little Country Girls 6/28/1951 Assistant hotel manager Harvey Anderson accuses a bellhop of stealing $15,000 from a guest, but it may be a con woman who has tried this before.
Pick a Number 8/14/1952 A meek clerk discovers that the numbers he releases at the clearing house where he works are the ones used by men running a numbers game.
The Sure Thing 9/7/1953 Braddock tries to break a bookmaking operation.
The Christmas Caper 12/25/1952 The story of conmen who take advantage of an elderly man whom they hire as a sidewalk Santa. The money he raises goes into their pockets, and not to charity as he had been told.
---