Rare TV Crime Shows
Here are some crime series of which I only have a few episodes, or only a few are in public domain, or they are one-shot "pilot" shows. Available on DVD-R or Mpeg2 video files.
---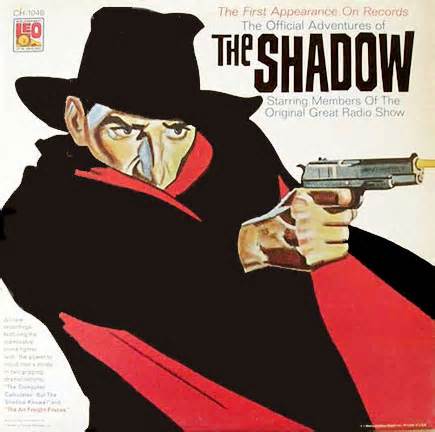 TV Pilots and Single Episodes
The Shadow: Case of the Cotton Kimono
(1954) Lamont Cranston investigates the murder of a beautiful young singer. Suspects include the woman's lecherous music teacher and her jealous boyfriend, but only the Shadow knows what evil lurks in the heart of the real culprit. Starring Tom Helmore, Paula Raymond; Directed by Charles Haas.
The Shadow: Invisible Avenger
(1958) 58m. TV pilot for a Shadow series. The legendary mind-clouding man of mystery is back in this film noir tale set in New Orleans, where nothing is ever as it seems. Exiled Spanish leader Pablo Ramirez is hiding out on Bourbon Street as plans are laid to overthrow the oppressive dictatorship that currently exists in his country. A fascist generalissimo has planted assassins in the city to dispose of Ramirez and thwart his impending coup d'etat. Lamont Cranston (Richard Derr) -- aka the Shadow -- is summoned to protect Ramirez and thus ensure a successful revolution. The Shadow, summons up his supernatural powers of hypnosis and invisibility to save Ramirez and stop his enemies' diabolical exploits.
Bulldog Drummond: The Ludlow Affair
(1952) Douglas Fairbanks Jr. introduces this small-screen adaptation of H.C. McNeile's popular character, the suave sleuth with a taste for fast cars and beautiful women. Robert Beatty plays Drummond, while future Hammer Films perennial Michael Ripper plays his faithful pal, Kelly.
Unsolved
(1960) Someone kills racketeer and club owner, Martin "Mugsy" Heidel in this thinly veiled retelling of the unsolved 1947 murder of Benjamin "Bugsy" Siegel, the infamous Las Vegas developer. Starring Simon Oakland, Joe DeSantis; Directed by Charles Rondeau.
Chicago 2-1-2
(1957) A serial arsonist is terrorizing Chicago with a string of deadly blazes. Inspector Ed McCook suspects that the perpetrator is among the crowd of curious spectators at the crime scene. Starring Frank Lovejoy, Roy Thinnes; Directed by Norman Foster.
The Bogus Green
(1951) Before the Big Top comes to town, circus advance man Brass McGannon arrives to grease the wheels, making all the necessary arrangements with local officials, police and press. But counterfeit money has also been appearing wherever the traveling show goes, spelling big trouble for McGannon. Starring Preston Foster, Martha Vickers; Directed by Lew Landers.
Cases of Eddie Drake: Shoot the Works
(1952) Only 13 episodes were shot on film of this detective show starring Don Haggerty.
Burke's Law: Who Killed Jason Shaw?
(1964) A call girl returns to her posh suite at the Bel-Air Gardens to find her client in the shower - dead! Captain Burke investigates and makes a startling discovery. Gene Barry as Amos Burke, with Regis Toomey, Gary Conway Tammy Grimes, Burgess Meredith, Keenan Wynn.
---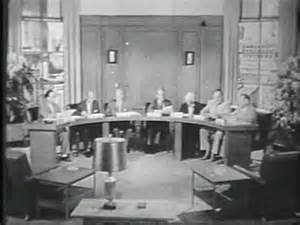 The Court of Last Resort
(1957-58) 26 episodes were made about criminal law experts aiding unjustly convicted defendants. Stars Paul Birch as Erle Stanley Gardner.
Clarence Redding Case The infamous "lipstick murderer" is a fiend who stalks and murders young girls. When a drifter is accused of killing Annie Bingham, Investigator Sam Larsen has just three weeks to find the real killer before Redding is executed.
Jim Thompson Case Indian chief Jim Thompson, convicted of killing his wife, appeals to the court.
John Smith Case During his long imprisonment for the slaying of a grocer, John Smith did not receive a single letter, have any visitors nor communicate with the outside world. But he did continue to protest his innocence to the warden, who gave Smith's story to investigator Sam Larsen of the Court of Last Resort.
Mary Morales Case A newspaper reporter asks the Court of Last Resort to investigate the circumstances that led to the conviction of a young Mexican mother for first-degree murder. The reporter feels that the woman was found guilty because of prejudice against her rather than concrete evidence.
---
The Lone Wolf
(1954-55) Louis Hayward stars as Michael Lanyard, globe-trotting rogue gentleman who fights crime.
Las Vegas Story In this first episode of the series Lanyard arrives in Las Vegas on vacation, where he gets involved with a cop and his brother who is wanted for murder.
Beverly Hills Story Lanyard meets a con artist.
Oil Story Lanyard is asked to find a woman's six-year-old son, whom she believes was kidnapped by his father. Lanyard searches for the boy through the oil fields of Oklahoma.
Karachi Story Lanyard protects the son of religious cult leader.
Stamp Story Lanyard masquerades as a stamp collector after being hired to recover a rare and valuable Algerian stamp, but everything is not as it appears.
---
Man Behind the Badge
(1953-55) Police anthology series hosted by Charles Bickford.
Capital Crime Laurin Goin, director of the Pittsbugh and Allegheny Crime Laboratory, tries to find a killer who has left some imperceptible clues.
Dying Past State's Attorney Lawrence DeShaw investigates several complaints against a bitter, angry old man who is found beaten to death.
Hot Stock Katherine LeRoy, of the Nebraska Bureau of Securities, tries to trap a con man who sells unregistered securities.
Priceless Passport A former immigration officer comes out of retirement to expose the illegal selling of American passports in Mexico.
Second Chance Charles Wade led two lives in his effort to combat crime.
---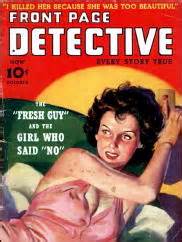 Front Page Detective
(1951-52) Edmund Lowe stars as David Chase. Based on stories from "Front Page Detective" magazine.
Seven Seas to Danger (1951) A smuggler stows away on a Siamese freighter bound for the U.S. so he can keep a close eye on a cache of stolen diamonds. Starring Edmund Lowe.
Little Black Book (1951) Newspaper columnist David Chase is harassed by underworld figures who are seeking a little black book he supposedly possesses. Joe Besser guest stars. Starring Edmund Lowe.
Murder Rides the Night Train (1951) A racketeer's enemies plan to stop his train to Washington permanently.
---
Richard Diamond, Private Eye
(1957-58) David Janssen stars as Richard Diamond, a character created by Blake Edwards.
Picture of Fear A pretty young photographer snaps a candid shot of some hunters in the wild while on vacation at a remote wilderness lodge. She turns to Richard Diamond for protection when she discovers that the hunters are criminals who will commit murder in order to prevent the photos from being published.
Merry-Go-Round Case A gas station attendant is murdered in a botched hold-up. The evidence points to one of Richard Diamond's war-buddies.
---
Checkmate

(1960-62) Anthony George, Doug McClure and Sebastian Cabot. Don Corey and Jed Sills operate Checkmate, Inc., a very high priced detective agency in San Francisco. Helping them protect the lives of their clients is British criminologist (once an Oxford professor) Carl Hyatt.
The Human Touch A master-minded criminal, Alonzo Pace Graham (Peter Lorre), invents an elaborate scheme to kill Dr. Hyatt (Sebastian Cabot), but his plan fails because he did not take into account the value of the human bond of friendship.
Nice Guys Finish Last Angry at not being promoted to precinct captain, Don's detective friend (James Whitmore) frames a "murder" on an old high school rival (Dennis Patrick) whom he believes is responsible for the pass over. Chris Devlin helps with Checkmate's investigation by posing as a rookie cop.
---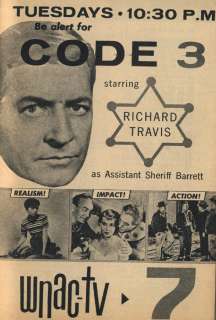 Code 3 (1956-57) US police series starring Richard Travis as Sheriff George Barnett and Denver Pyle as Sgt. Murchison.
Rookie Sheriff A young deputy's experience as a Czech refugee make him feel that brute force is essential. The man has seen his parents brutally killed. The Sniper A woman suspects that her husband is the sniper who is terrorizing Los Angeles. The Benson Case A killer tries to discover which of her cellmates is a police agent.
Man with Many Names Lt. Bill Hollis of the Forgery Detail is baffled by a clever forger. A mannerism of the man provides the clue that Hollis needs.
---
Follow That Man (1949-56) Aka. "Man Against Crime." US detective series starring Ralph Bellamy as Mike Barnett.
Paradise Lost Barnett's best friend and fellow private-eye Jackson is murdered, leaving behind a clue in a copy of Milton's Paradise Lost that points to the killer. Silken Touch Teaming up with an FBI agent, Mike investigates a series of truck hijackings. The Iceman Barnett unlocks the mystery of a pair of thieves whose speciality is looting the rooms of hotel guests.
Fraternity of Five
---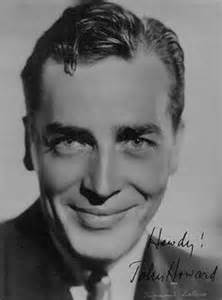 Public Prosecutor
(1947-48)
Public Prosecutor
was the first dramatic series to be shot on film, instead of being broadcast live. John Howard starred in the title role of a public prosecutor along with Anne Gwynne and Walter Sande. Each mystery with multiple suspects only runs 17 minutes!
The Case of the Missing Bullets A patrolman is murdered when he interrupts a burglary and Stephen Allen must find his killer.
The Case of the Strange Suicide Prosecutor Allen proves that a suicide note is fake, initiating a murder investigation.
The Case of the Missing Hour A prominent publisher is murdered and Allen's investigation is complicated by the fact that the man had many enemies who wanted to see him dead.

The Case of the Man Who Wasn't There Allen is baffled when an overwhelming case against a thief is dismissed, after the culprit is able to establish an air-tight alibi in court.
The Case of the Dead Man's Voice A murdered mystery writer leaves a tape recording in which he taunts the police from beyond the grave, challenging them to uncover the identity of his killer.
The Case of the Shattered Mirror The spray of bullets that missed their mark is the only clue Prosecutor Allen has to work with, as he investigates the murder of a songwriter.
The Case of the Thousand Terrors Allen is skeptical when an heiress claims that someone is out to kill her and believes the woman is omitting important information.
The Case of the Innocent Lion (2/10/1961) A lion tamer that has been mauled to death, but Allen discovers a six-inch stab wound in the man's back.
The Case of the Devil's Heart Stephen Allen investigates the strange death of Tommy Davidson, the son of a millionaire who also died under mysterious circumstances. A rare orchid and a children's nursery rhyme prove to be the keys to solving the crime.
The Case of the Glamour Girls
---
---