The Roy Rogers Show
(1951-1957) The Double R Ranch featured "The King of the Cowboys" Roy Rogers, his "Smartest Horse in the Movies" Trigger, "The Queen of the West," Dale Evans, her horse Buttermilk, their wonder dog Bullet, and Pat Brady with his jeep Nellybelle.
---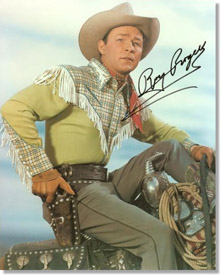 Vol 1: Minister's Son 3-23-1952. A government agent poses as a minister's son in order to capture a gang of counterfeiters.
Unwilling Outlaw 3-8-1952. Bank Employee Jed Collins is framed for embezzlement and forced to join an outlaw gang.
M Stands For Murder 12-6-1953. Roy investigates a legend that says that anyone who sees the ghost of "One Arm Johnny" will be murdered.
Train Robbery 2-3-1952. The local postmaster hires two crooks to blow up and rob a train carrying a valuable bank shipment.
Vol. 2: Ride in the Death Wagon 4-6-1952. An elderly invalid donates cash for a climic, but a crook posing as an armed guard steals it.
Shoot to Kill 4-27-1952. Pat is photographed by a dude who later tells everyone the picture is of a famous outlaw.
Outlaw's Girl 2-17-1952. Waitress in Dale's cafe is invloved with a cheap thug who returns to town.
Ghost Gulch 3-30-1952. Man captured by unscrupulous rancher who wants to buy his ranch for the secret gold mine.
Vol. 3: Jailbreak 12-30-1951. First episode in the series! Dale helps an innocent young man escape from jail.
Doc Stevens' Traveling Store 1-6-1952. The Doc's "traveling store" holds a transmitter that sends info to a gang of outlaws.
Treasure of Howling Dog Canyon 1-27-1952. Saloon hostess murders miner and threatens his stepson for the map to his gold.
Hidden Treasures 12-19-1954. Crooks hear Roy tell Dale: "The Key to the greatest treasure in the world is in that book."
Vol. 4: Badman's Brother 2-10-1952. An eleven-year-old boy is loyal to his bandit brother who steals and kills.
Outlaw's Town 3-1-1952. Roy and Pat pose as outlaws to invade a safe haven for crooks in the desert.
Dead Men's Hills 3-15-1952. Roy, Dale and Pat help a wounded sheriff hold the Hannon gang at bay in desert oasis.
Peril From the Past 4-13-1952. Two crooks blackmail a bank teller who once did time in prison.
Vol. 5: Ride of the Ranchers 4-20-1952. Don Jose's hacienda is attacked by outlaws while he leads a parade.
The Hermit's Secret 5-4-1952. Indian Ruby Barton's husband is murdered by a racketeer and guilt seems to point to Ruby's uncle.
The Knockout 12-28-52. A boxer -- Charles Bronson in one of his earliest screen roles -- is under the control of a gang.
Go For Your Guns 11-23-1952. Dale's nephew idolizes a dreadful gunfighter.
Vol. 6: Ghost Town Gold 5-25-1952. Pat Brady buys a ghost town and finds a desert rat with a cache of counterfeit gold pieces.
The Doublecrosser 6-1-1952. Man blackmailed into shielding outlaw gang just as his mother arrives to visit.
Carnival Killer 6-8-1952. A young whip artist in a carnival is framed in the murder of his boss.
Flying Bullets 6-15-1952. Pat Brady is elected sheriff of Martin County just in time to apprehend a murderer.
Vol. 7: Death Medicine 9-7-1952. An elderly diabetic is kidnapped and held for ransom.
Outlaw's Return 9-28-1952. Roy gives an ex-convict a job on his ranch, who is suspected when holdups occur.
Loaded Guns 4-12-1953. Tom Larabee's gun is used to kill a rancher, though Tom swears he never pulled the trigger.
Mayor of Ghost Town 11-30-1952. Young woman arrives seeking her father who is the "mayor" of a ghost town.
Vol. 8: Blind Justice 12-14-1952. Greedy veterinarian conspires to murder a blind prospector who is using Bullet to lead him
Run-A-Round 2-22-1953. Con men trick Dale into signing bill of sale for her ranch.
Silver Fox Hunt 4-19-1953. Trading post operator steals silver from the Acuna Indians and murders their chief.
The Mingo Kid 4-26-53. When the Mingo Kid overpowers Roy and changes clothes with him, an outlaw makes Roy take part in a bank robbery.
Vol. 9: Money to Burn 6-28-1953. A peddler in cahoots with outlaws sells a stove to Dale with the stolen money inside.
Milliner From Medicine Creek 10-11-1953. A pretty young milliner and her grandfather are suspected of robbing Wells Fargo.
Pat's Inheritance 11-1-1953. Pat and a distant cousin co-inherit a valuable ranch that bad guys want.
Outlaws of Paradise Valley 11-8-1953. Outlaws take hostages from an archaeological expedition.
Vol. 10: Phantom Rustlers 4-5-1953. Rustlers with trucks try to sell stolen beef to Dale's diner.
Lady Killer 9-12-1954. A lady banker murders all ranchers in an oil-rich valley.
Secret of Indian Gap 1-24-1954. Orphan shoots at Roy and Dale to keep them away from illegal gold mine run by the boy's uncle.
The Big Chance 1-23-1955. Pay and Nellybelle are kidnapped by gang of outlaws, one of whom may be inheriting a million dollars.
Vol. 11: Hard Luck Story 10-31-1954. Insurance racket preys on innocent ranchers.
Strangers 12-5-1954. An artistic teenager and his father move to Paradise Valley and are fooled by desperados.
Money is Dangerous 1-29-1956. An old miser is robbed by his bodyguard.
Horse Crazy 2-26-1956. Roy is captured by a desperado who wants him to track down his missing horse, who may be faster than Trigger.
Vol. 12: Backfire 10-10-1954. A thief ambushes a parson and then disguises himself as the man.
Last of the Larabee Kid 10-17-1954. Mystery thief The Larabee Kid hijacks stolen loot from crooks who rob stagecoaches.
Bad Neighbors 11-21-1954. Roy and Dale caught up in fight between cattlemen and homesteaders for a piece of land.
Quick Draw 3-20-1955. Trigger-happy sheep rancher joins posse to hunt down his brother-in-law who robbed the stage.
Vol. 13: The Desert Fugitive 2-24-1952. Bill Harris is mistaken for his twin brother who stole government documents.
Mayor of Ghost Town 11-30-1952. Young woman arrives seeking her father who is the "mayor" of a ghost town.
Uncle Steve's Finish 2-3-1955. Roy and Dale are suspicious of a local school teacher after the Paradise Valley stage is robbed.
The Scavenger 11-27-1955. The town scavenger picks up a cache of counterfeit money. Roy must protect him when the outlaws return.
Vol. 14: Bullets and a Burro 11/15/53 Roy and his friends round up a gang headed by the sheriff's brother, who tries to steal an old prospector's savings.
Gun Trouble 11/22/53 Orphaned teenager Jerry King has fallen in with Colt Eggers and his outlaw gang who order him to murder Roy.
Outcasts of Paradise Valley 1/9/55 When they are unable to find work, two youths turn to crime, even endangering a kindly old couple who befriended them.
The Ginger Horse 3/27/55 Roy, Dale, and Pat are visiting nearby Carson County. While there, they meet a little girl named Janie Howard whose beloved horse has been stolen by an outlaw who has framed Janie's father in a robbery. Includes the only song in one of Roy's TV shows: "The Bible Told Me So," written by Dale Evans.
---