Sergeant Preston of the Yukon
(1954) Canadian Mountie Sgt. Preston (Dick Simmons) patrols the wilds of the Yukon with his horse Rex and his faithful dog Yukon King, battling both the elements and criminals.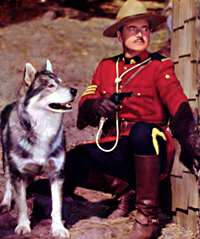 Vol. 1: One Bean Too Many 1/5/1956 A photographer visiting the Yukon finds more then he bargained for.
Crime at Wounded Moose 1/12/1956 An ex-con is accused of stealing gold and it's up to Preston to clear him.
The Dog Race 1/19/1956 Sergeant Preston has to stop a mob ring from fixing a dog sled race.
The Phantom of Phoenixville 1/26/1956 A young couple inherit some land and a gold mine in the Yukon.
Vol. 2: Trapped 2/2/1956 A con-man tries to take over a family's gold claim.
Justice at Goneaway Creek 2/9/1956 An innocent young man is suspected of murder.
Skagway Secret 2/16/1956 Sergeant Preston, with the help of the U.S. Marines, bring a gold smuggling ring to justice.
Relief Train 2/23/1956 Newcomers to the Yukon hit gold but run out of food and fall for a con.
Vol. 3: The Limping King 9/13/1956 Sgt. Preston catches two swindlers who sell salted mines, and then must befriend their bitter victim.
The Black Ace 1/3/1957 Two feuding brothers have a gold mine that they think is worthless.
Scourge of the Wilderness 1/10/1957 Rebellious Indians attack a remote trading post.
Blind Justice 1/26/1956 A young boy adopts a blind dog, who helps catch robbers.
---