Michael Shayne
(1960-61) One-hour Miami detective series starring Richard Denning ("Mr. and Mrs. North") who was perfect casting for the red headed, Irish private detective, who had a taste for cognac, brawls and broads. Shayne had a voluptuous blond secretary named Lucy Hamilton (Patricia Donahue). Lucy's younger brother Dick Hamilton (Gary Clarke) sometimes got involved in Shayne's cases. Tim Rourke (Jerry Paris) was a reporter friend, and another friend was Miami chief of police Will Gentry (Herbert Rudley).
---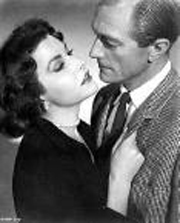 Vol. 1: Shoot the Works (11/11/1960) Lucy's best friend finds her husband dead at home and evidence that he planned to fly off with another woman.
Murder & the Wanton Bride (12/16/1960) Shayne finds that clues to a man's murder just outside of a phone booth take the detective through a tail of adultery and bigamy at a spa owned by the dead man's wife.
Vol. 2: This Is It: Michael Shayne (11/18/1960) The pilot show with Richard Denning as Shayne that aired #7 in the series. Guests: Julie Adams, Hillary Brooke.
Murder Plays Charades (12/9/1960) Guests: Faith Domergue, Eduardo Cianelli.
Vol. 3: Man on a Raft (9/28/58) Pilot show starring Mark Stevens as Shayne. Produced in 1957, this rare show aired as an episode of "Decision," and contains a pitch looking for a sponsor.
The Heiress (2/3/1961) Guest stars Lynn Bari and Susan Oliver.
Vol. 4: Marriage Can Be Fatal (3/31/1961) Guests: Barbara Nichols, Patricia Barry.
The Body Beautiful (3/24/1961) Guests: Denny Miller, Pat Crowley.
Vol. 5: The Final Settlement (2/10/1961) Guest: Patricia Huston.
Murder in Wonderland (12/30/1960) Guest: Anthony Caruso.
---