Sheriff of Cochise (U.S. Marshall)
(1956-1960) While this sounds like a western, THE SHERIFF OF COCHISE was a contemporary police drama set in Cochise County, AZ, emphasizing fistfights and car chases rather than gunplay. Tough Sheriff Frank Morgan (John Bromfield) was eventually promoted to U.S. Marshall and given the entire state of Arizona to control. The series title was changed to UNITED STATES MARSHAL for seasons 3 and 4.
---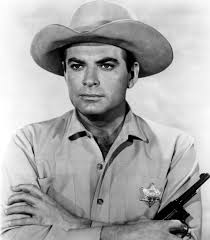 Vol. 1: Red-Headed Visitor (1956) A fugitive wanted for murder dyes his hair and plans to hide out at a desert resort until the heat dies down. He kills an automobile mechanic to keep his identity a secret and Sheriff Morgan arrests the mechanic's spiteful brother-in-law by mistake.
Bank Robbery (1957) The State Bank is robbed by two men, one posing to be blind. Frank Morgan and his deputies must track them down before they strike again.
Rest in Peace (1959)
The Diner (1959) Two criminals escape from prison to find a former gang member who they believe is working in a diner near Tucson, and having in his pocession money owed to them from a previous robbery.
Vol. 2: Army Escapee Pursuit (1959) An army recruit goes beserk at a military base, wounding two soldiers. He takes as hostages a young woman and her soldier boyfriend and escape in the girl's car with Marshal Frank Morgan and his men in pursuit. With Charles Bronson.
Murder My Darling
Man Who Lived Twice
Stool Pigeon (1958) An undercover Deputy is shot and killed during a drug deal. Two members of the gang are captured and placed in jail. Frank Morgan tries to get one of the men to confess and disclose the idenity of a top syndicate boss.
Vol. 3: Fugitives (1958)
Husband and Wife (1957) The daughter of a prominent rancher runs off and marries a phony rodeo star, not realizing that her new husband is still legally married to another woman. The rancher and his wife ask Frank Morgan for his help.
Kill or Be Killed A man under protective custody is killed, and when one of the killers is identified, he hides out on a remote farm with a naive woman.
Mary Jo is Missing (1959) Two men are talked into kidnapping Mary Jo by her husband, but think she's really a television/movie star and hold her for $50,000.
Vol. 4: The Promise
My Sons (1958) A young boy driving a stolen car is killed in an accident. With Mary Astor.
Lynching Party (1957) A young ranch hand argues with the owner of the ranch argue about the ranch hand's romance with the owner's daughter. During a fight the older man is killed accidently and his friends ride for revenge.
The Champ (1958) Would-be boxing champ (Michael Landon) turns to the wrong side of the law. Marshal Morgan refers to him as "Champ" several times in the episode.
Vol. 5: Ghost Town (1959) Two convicts escape from the County jail, taking with them the wife a another prisoner who backed out. They take their hostage and hide in an old ghost town, with Morgan and Ferguson close behind
The Fence (1958)
Deer Hunt (1959)
Armored Car (1958) An investigation against an Armored truck company leads to an inside job.
Vol. 6: Big Diamond (1957) Burton is found dead at the bottom of some steps outside his office. What appears to be a fatal accident becomes a murder investigation when Sheriff Morgan learns that the businessman recently obtained a huge diamond ring, which is now missing and was, unknown to him, part of a jewelry heist. The lawman trace the ring to a waitress who says she returned the ring to the mentally challenged handyman who gave it to her. The handyman says she kept the bauble.
Vapor Lock 3/9/1957 On his way to Bisbee, Sheriff Morgan stops a car with at a Texas license plate parked by the side of the highway. When he offers his assistance and is refused, he goes on his way. The men rob another driver and a hectic search follows to bring back the fugitives to face charges.
Needle Point (1959)
A Woman Escapes (1958) When Helen Gifford tries to force her younger brother to leave Vera Watson's ranch, Vera pulls a gun and Helen is mortally wounded in the scuffle. Sheriff Morgan doesn't believe the story Vera and Hank have cooked up, so he looks for evidence to destroy their alibis.
---