Shotgun Slade
(1959-1960) Shotgun Slade was a lawman in the 1860's. He used a a custom made double-barreled shotgun which shot both a shotgun shell and a rifle bullet. Starring Scott Brady.
---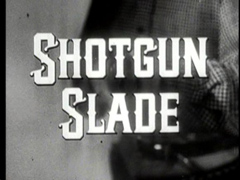 Vol. 1: A Flower on Boot Hill 6/11/1960. On his way to investigate a robbery, Slade is ambushed and robbed of his gun and clothes by escaped prisoners.
Backtrack 5/28/1960. An amateur embezzler who glamorizes a life of crime learns a hard lesson when he falls in with a gang of bandits after they free him from Slade's custody during a train robbery.
Charcoal Bullet 7/1/1960. Slade goes to see Peggy at the bank before he leaves town. While there the bank is robbed. A drunken artist had overheard a conversation about the robbery and does a charcoal drawing of one of the robbers and passes out. Slade is almost gunned down by the robber that he has the drawing of. Slade realizes that there must be someone else in on the robbery.
Donna Juanita 4/15/1960. Slade travels to New Mexico Territory to split open a land grant syndicate and expose the identity of the swindler behind it.
Vol. 2: The Deadly Key 3/8/1960. Slade is hired to recover a key to hidden treasure.
The Golden Tunnel 4/22/1960. Slade's visit to an old friend turns deadly when some people will stop at nothing to steal a last will and testament entrusted to Slade's care.
The Smell of Money 11-23-1956. A bank robbery gone wrong brings Slade to Willow Ridge to rout out the guilty party and his accomplice.
The Spanish Box 5/27/1960 Slade is hired by Bill Wharton to deliver a box to a man in Lodestone. The box explodes, killing the recipient and Slade ends up in jail.
Vol. 3: The Killer's Brand 6/4/1960. Slade comes to the Cody Ranch and goes undercover as a hand to smoke out a murderous band of horse thieves.
Lost Gold 7/5/1960 The Gold Run Mining Company discovers that large quantities of gold ore are disappearing.
A Flower for Jenny 4/29/1960 A singer working at the Deadwood Saloon asks Slade for help. She thinks someone is trying to kill her.
Ring of Death (aka Ring of Truth) 6/3/1960 Joe comes back from Abilene and gives Kate an engagement ring. Only problem is that Kate is in love with Len. Len kills Joe and steals the $20000 he got from the sale of cattle in Abilene. When Slade arrives, Kate gets nervous.
---