One Step Beyond
(1959-1961) John Newland introduces reported cases of supernatural phenomena, whose poetry is revealed in magnificent and almost brutally compressed dramatizations.
"What you are about to see is a matter of human record. Explain it: we cannot. Disprove it: we cannot. We simply invite you to explore with us the amazing world of the Unknown ... to take that One Step ... Beyond."
Available in Mpeg2 and Mpeg4 digital files, supplied on USB sticks or external hard drives.
---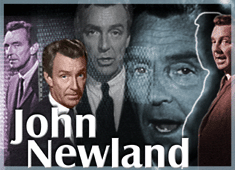 The Clown A mute carnival clown witnesses the abuse between a beautiful young lady and her cruel husband. After an act of violence, the spectral presence of the clown haunts his every step. Aired: 3/22/1960
Delia While vacationing at a tropical resort, a cynical man meets a beautiful young lady who speaks cryptically about the many times they've met before. The two fall instantly in love -- but the next day he cannot find her . . . and the other resort guests claim he spent the evening alone. 5/3/1960
House of the Dead A British army officer stationed in Hong Kong seeks the help of an old Chinese man . . . who writes a cryptic message on paper and tells him to look for his wife in the "House of the Dead" 6/7/1960
Tidal Wave As a tidal wave approaches the Hawaiian Islands, the wheelchair-bound wife of a Naval engineer tries to find someone to help her evacuate. Nothing can save her but telepathy. 8/30/1960
Brainwave In World War II a ship's captain is gravely injured. The Pharmacist's mate must perform the surgery by communicating with a nearby ship's Medical doctor who will guide him thru. 10/6/1959
Doomsday A Scottish earl executes his son's lover for being a suspected witch, and with her last words the doomed young women places a curse on the earl's family. Hundreds of years later, the current earl of the family lives in fear of this curse. 10/13/1959
The Inheritance A wealthy but cruel woman torments her gigolo boyfriend and timid maid, but a possessed diamond necklace inflicts a horrible punishment on the women who try to wear it. 10/27/1959
The Explorer Three lost explorers wander aimlessly in the desert, their low water supply presaging death. Suddenly from nowhere, a man appears and offers to lead them back to civilization. 3/15/1960
Delusion A man with a rare blood type is asked to save a young lady's life by donating blood. After saving the young lady's life, he foresees her death and becomes obsessed with protecting her. 9/15/1959
Anniversary of a Murder A business man and his mistress are driving home one night when they accidentally cause the death of a young bicyclist. One year later the man hears the dead boy's final words on his office dictaphone. 9/27/1960
To Know the End An English librarian named Emily, and Ann, her American friend, are vacationing in France when Emily has a vision - an English captain is killed in a battle on French soil. 11/1/1960
A Message From Clara An English instructor teaching immigrants finds herself writing at the blackboard in a language she doesn't understand. It turns out to be a warning against one of her students. 11/10/1959
Forked Lightning A lightning storm sets the wheels in motion for two men to meet their fate at the same time and in the same place. 11/17/1959
Dead Ringer A turn-of-the-century newlywed claims that her evil twin sister is responsible for a series of fires set in orphanages, but the sister died years ago. 12/1/1959
The Stone Cutter Stanley Lockhart's father seems to be in excellent health, but he insists he'll die today. 12/8/1959
The Last Round The ghost of a prize fighter haunts an east London boxing arena. Legend has it that if you see him, you will die. 1/10/1961
Captain's Guests In an old house along the New England coast, the husband begins to take on the personality of the long-dead sea captain who previously lived there. 5/26/1959
Where Are They? Stones fall on Chico, California; a man goes to Washington, D.C with effervescent tablets that turn water into fuel for automobiles. 12/13/1960
Justice Man confesses to murdering a child, but witnesses swear he was asleep in church at the time. 3/7/1961
Night of April 14 A woman has a nightmare that her fiancé dies by drowning. The next day he announces that the couple will honeymoon aboard the Titanic. 1/27/1959
The Dark Room A woman photographer in the south of France is almost strangled by her subject. 2/10/1959
Epilogue Carl Archer, a recovering alcoholic travels to Nevada to try and patch things up with his wife. His wife Helen and son Stevie visit a nearby silver mine when the mine collapses. 2/24/1959
The Dream Herbert Blakely is on night patrol in the coastal town on lookout for Nazis when he dreams about bombs destroying his home where his wife is. 3/3/1959
The Dead Part of the House After the death of her mother, a haunted nursery and three dolls help a young girl reconnect with her dad. 3/17/1959
The Devil's Laughter Authorities are having trouble executing convicted killer John Marriott. 3/31/1959
Return of Mitchell Campion A man is known by everyone on a small Mediterranean island he has never visited. Soon, he too remembers being there before, but he was in the hospital at the time of the visit. 4/7/1959
The Secret An woman is befriended by a man who lived and died long before she was born. 4/21/1959
The Aerialist A fall, a coma and telekinesis visit a famous big-top aerialist troupe. 4/28/1959
The Riddle An irrational hatred in an American tourist on the Bombay-Calcutta Mail Railroad train is considered in terms of metempsychosis -- the transmigration of souls. 6/16/1959
The Vision In the trenches in WWI, the French troops drop their arms and walk very serenely away from the front. Hearing of this the generals bring them up on charges of dissertion, but oddly some German soldiers did the same thing. 3/24/1959
Earthquake The bellhop who foretold The Great San Francisco Earthquake of 1906. 1/12/1960
Make Me Not a Witch A young girl living on a farm acquires the ability to read people's minds. Her gift proves instrumental in the rescue of two children. 12/22/1959
Echo A man is found innocent of his wife's murder. Her brother arrives from New Zealand and precipitates the real culprit's capture. 6/2/1959
Front Runner A jockey's career is ruined by his successful rival, but with the man's death during a race, Ronnie is stricken with an unknown ailment as revenge reaches out from beyond the grave. 6/9/1959
Peter Hurkos Story - 1 Fleeing from German soldiers during World War II, Peter Hurkos falls fifty feet from the top of a building. When he wakes in a hospital, he finds that he has new psychic powers. 4/19/1960
Peter Hurkos Story - 2 After years in show business as a psychic act, Hurkos's abilities are tested in a laboratory and proven real. The psychic is recruited by the police to help solve a brutal murder. 4/26/1960
I Saw You Tomorrow While visiting a country estate for the weekend, a man hears an argument in the room across the hall. He investigates and witnesses a man striking a woman and killing her. A few hours later, he sees the same couple at dinner. 4/5/1960
The Mask (3/1/1960) A World War II flier, recovering in a hospital from over-exposure to the desert sun, is possessed by the spirit of a long-dead Egyptian prince. 3/1/1960
Vanishing Point (2/23/1960) Mrs. Fred Graham entered her house one day and was never seen again. When her husband asks the police to help him find his missing wife, he's accused of murdering her. 2/23/1960
The Haunting When his wife and his best friend seem to be getting too chummy, Colin Chandler decides to make sure the friend doesn't come back from a skiing trip. 3/8/1960
Dead Man's Tale Former newsman Phillip Werris and his wife Jan face poverty. In desperation, sits down to write some free-lance articles for his old paper, and does so - in his sleep. 1/17/1961
The Executioner A Confederate soldier lost behind Union lines is framed for spying. His dog saves him even after death. 1/3/1961
The Gypsy During a prison escape, a young convict learns a lesson from his gypsy friend. 5/17/1960
The Storm A dead artist's fame rests on one painting, unfinished when he died but now complete. 6/21/1960
Person Unknown Dr. Atl is exonerated from a murder charge during the Mexican Revolution by a death mask revealing a monster's grip. 2/7/1961
Night of Decision The Continental Army is camped at Valley Forge and Washington is debating whether to surrender to the English. 2/21/1961
Legacy of Love (12/20/1960) Marianne Darelle plans to go to Woodmere, a seaside resort, for her vacation. She is sold a ticket to Seaside instead. She exchanges the ticket, but still ends up in Seaside! 12/20/1960
The Trap (11/15/1960) Doctors can't explain why a man suddenly becomes gravely ill. 11/15/1960
Forests of the Night (1/19/1960) A Chinese box with alleged powers creates havoc for three men on a hunting trip.
Moment of Hate (10/25/1960) A woman believes she has power to cause death by wishing it.
Image of Death (5/19/1959) A marquise becomes obsessed with an image that grows on his wall after a painting has been removed.
Encounter (4/12/1960) A pilot surveying woods disappears. When he's found, he appears to have gone mad.
Bride Possessed (1/20/1959) A bride begins to predict features of an area she's never seen. First episode in the series.
The Burning Girl (5/5/1959) A family moves to a new town when everyone believes their daughter Alice Denning is responsible for the fires that start.
Premonition (3/10/1959) Debbie Garrick has a premonition of her own death by a falling celier.
Reunion (11/24/1959) German glider enthusiasts plan to meet the first weekend after WWII ends after jealousy between Peter and Hans of the lovely Helga leads to ones death.
Emergency Only (2/3/1959) A skeptical man has his fortune told at a cocktail party. His disbelief turns to fear that he will be pursued by a knife-wielding woman on a train.
12 Hours to Live (2/17/1959) After her husband storms out of the houset, his wife begins having visions of him in terrible danger. She seeks help before resolving to rescue him herself.
The Navigator (4/14/1959) A stowaway sends a ship off course to the China Seas and refuses to say why.
The Haunted U-Boat (5/12/1959) While on patrol during WWII, a German U-boat attempts to evade detection from sonar, but their location is revealed by a mysterious banging sound.
---