The Trouble With Father (Stu Irwin Show)
(1950-55) Stu Erwin played a high school principal who balanced his job and his family - his wife June and their two daughters, Joyce and Jackie.
---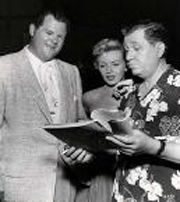 Vol. 1: Many Happy Returns 6/16/1951 June gets a temporary job at a florist in order to buy Stu a long coveted shotgun for his birthday. Her employer turns out to a bookie and June finds herself in a jam.
Father's Pet 11/28/1952 The family is talked into raising guppies as pets.
Business 2/1/1952 Stu invests his bonus check in a dress store, then must take over managing it.
Spooks (Problem Party) 12/23/1950 Joyce's invitation party turns out to be a real problem when Jackie seeks revenge for not being invited by bringing home a skeleton that gets mixed up with Joyce's boyfriend who is in a skeleton costume. With guest Margaret Hamilton.
Vol. 2: Springtime for Father 7/14/1951 Stu and Harry decide to go on a camping trip in the North Woods after talking about for years. They spend hundreds on a tent, guns, and other equipment. Meanwhile, June and Adele have their hearts set on a glamorous vacation to New York City.
Youth, It's Wonderful 4/3/1953 June is bitten by a vanity bug and considers anything to roll back the clock on her looks.
The Big Game 12/14/1951 Stu ponders how to avoid vandalism before the big football game, then finds his duaghter has a statue belonging to the other team in his basement.
Thank You, Mr. Jarvis 12/9/1950 The Erwins find that a "gentleman's gentleman" is just not for them after they win a most formal and correct English butler.
Vol. 3: Father Gets into the Act 12/16/1950 Everyone wants to get into the act when a movie company comes to town. After Joyce and Jackie have been snared by a fake drama coach, June goes into his office to tell him off and leaves as another pupil.
The French Influence 3/2/1955 June is convinced her life needs freshness so she takes lessons from a Frenchman.
Hate the Sofa 10/19/1951 Stu get mad at his wife when he sees a couch being delivered to their house thinking that she is spending money they have saved for a vacation.
Barbecue 7/28/1951 Joyce and Nancy's parents interfere in order to help their daughters in their feud over Drexel. The Erwins give a barbecue in order to lure the boy to their house.
Vol. 4: Black Saturday 3/24/1951 When the neighbors get a dishwasher, June becomes jealous so Stu decides to build her a dishwasher from of a do-it-yourself kit with help of handyman Willie.
Pearl Necklace 4/6/1955 Stu forgets their anniversary at the same time he is hiding a valuable pearl necklace for a friend.
Fair Exchange 2/6/1953 Stu brings home a foreign exchange teacher from South America, which precipitates a feud with the neighbors.
What Paper Do You Read? 2/10/1951 June and Adele Bliss enroll in Stu's evening government civics class to be as politically up to date as he.
Vol. 5: Dr. I.Q. Erwin 11/11/1950 Stu is talked into taking an I.Q. test with his students, only to come out with a 20 grade, compared to average of 74.
Roughing It 9/1/1951 Stu and Fred decide to rough it on a camping trip, but are surprised when the female Erwins and Betty accidentally stumble on the outdoor camp.
In a Pickle 11/30/1951 Stu and Harry find they have eaten their wives' dill pickles which were to be entered in a pickle contest.
Leave It to Stu 1/16/1953 The rising cost of eggs causes Stu to cut food costs, and in short order he has six hens and a cow on his property.
Vol. 6: Stu's Holiday 11/4/1950 Stu's plans to spend the Admission Day holiday in bed are interrupted by younger members of the family.
Father Picks a Queen 5/26/1951 Stu gets wrong hair product and turns into a blonde.
Golden Key 12/19/1952 Stu must pick students for "I am an American" day.
The Contest 10/28/1950 Joyce and Nancy compete in a popularity contest. Parents help by buying votes.
---