Westinghouse Studio One
(1948-1958) "Studio One" was one of the many excellent anthology series from the golden age of television. It usually featured original hour-long dramas, occasionally adapting famous works or biographical material. Many big-name actors of the period guested on this prestigious series. The live TV performances were filmed in Kinescope.
---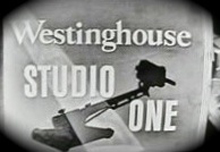 Vol. 1: A Bolt of Lightning (11/12/1951) 60 min. Directed by Paul Nickell. Cast: Charlton Heston, Rita Vale, Romney Brent. Dramatization of the life of James Otis, one of America's reluctant Bostonian revolutionaries caught up in the orbit of Sam Adams. A young Charlton Heston plays Otis with characteristic patriotic zeal. Otis was an Advocate for the British governor who turned on the British administration because of their refusal to recognize the sanctity of private property.
The Night America Trembled (9/9/1957) 60 min. Directed by Tom Donovan. This particular episode centers on the tale of the 1939 Halloween night radio broadcast of The Mercury Theater's "The War of The Worlds". Narrated by Edward R. Murrow, this program presented a dramatization of the studio end of the broadcast as well as audience reactions through vignettes. Guest stars abound in this episode, which opened the tenth season of this program, including Ed Asner, Vincent Gardenia, James Coburn, Warren Oates and a youthful Warren Beatty.
Vol. 2: Pontius Pilate (4/7/1952) 60 min. Directed by Paul Nickell. Cast: Geraldine Fitzgerald, Cyril Ritchard, Francis Sullivan. This storyline centered on the tale of Pontius Pilate, the Roman administrator of Judea and the man charged with trying and sentencing Jesus to death, in spite of his reservations with this responsibility.
The Trial of John Peter Zenger (1/22/1951) 60 min. Cast: Judson Laire, Henry Stephenson, Frank Sundstrom Based on a true story.
Vol. 3: The Nativity (12/22/1952) 60 min. Cast: Hurd Hatfield, Robert Shaw, Paul Tripp. This dramatization of the birth of Jesus was produced for the small screen by Studio One. This episode of the successful CBS network program was shown during the holiday season of 1952 and featured Paul Tripp, Hurd Hatfield, Robert Shaw Corale and Miriam Wolfe.
A Connecticut Yankee in King Arthur's Court (5/19/1952) 60 min. Cast: Thomas Mitchell, Boris Karloff. This adaptation of the Mark Twain classic tale presents the story of a modern-era gentleman who is thrust back in time to sixth century England during the time of King Arthur. Working his way into the favors of the king due to his knowledge from the future, our hero incurs the wrath of Arthur's court magician, Merlin.
Vol. 4: Wuthering Heights (10/30/1950) 60 min. With Charlton Heston, Mary Sinclair. The Lintons welcome Catherine into their home, Edgar their son falls in love with her, but Catherine loves another. Heathcliff below the social register is an outsider but his love for Catherine leads them to a tragic end.
June Moon (6/22/1949) 60 min. With Glenda Farrell, Joshua Shelley. A naive Schenectady shipping clerk comes to Manhattan with dreams of becoming a lyricist, befriends a one-hit wonder composer, and meets the girl of his dreams.
Vol. 5: The Storm (10/17/1949) During a stormy night, a woman alone in a country house discovers a dead body in her basement and is terrorized by an intruder. With Marsha Hunt, John Rodney. Directed by Yul Brynner.
1984 (9/21/1953) Eddie Albert stars in an adaptation of George Orwell's dystopic novel concerning one man's rebellion against a totalitarian society. With Lorne Greene.
Vol. 6: Twelve Angry Men(9/26/1954) A jury must reach a verdict concerning a teenaged boy accused of murder. Only one juror, played by Robert Cummings, believes he may be innocent. With Robert Cummings, Franchot Tone, Edward Arnold, John Beal, Walter Abel. Directed by Franklin Schaffner. Written especially for "Studio One" by Reginald Ross, then filmed by Sidney Lumet in 1957, and remade for TV in 1997.
Confessions of a Nervous Man (11/30/1953) The story about how the success of Axelrod's play "The Seven Year Itch" affected him. A "comedy documentary" made for Sutdio One by the author of the play -- George Axelrod -- who appears to introduce Art Carney, who then portrays Axelrod.
Vol. 7: The Strike (6/7/1954) Major Gaylord recounts an experience during World War II when he was obliged to fire on an American soldier in the dead of night on a Pacific island. Written for Studio One by Rod Serling. With James Daly, Roy Roberts, Bert Freed, Frank Marth. Directed by Franklin Schaffner.
An Almanac of Liberty (11/8/1954) A stranger comes to a small town with radical ideas, frightening the townspeople when they discover that time is standing still as a result of their mistreatment of the stranger, a few try to gang up on the intruder only to find that time moves backward with each infringement of another man's rights. They realize that the day is December 15, the 163rd anniversary of the signing of the Bill of Rights. When they repent, time, once again, moves ahead. Based on a book by Supreme Court Justice William O. Douglas.
Vol. 8: Dark Possession (2/15/1954) An anonymous letter writer creates fear and havoc in the lives of three sisters. A young doctor tries to help. With Helen Auerbach, Geraldine Fitzgerald, Barbara O'Neill, Leslie Nielsen, Bramwell Fletcher. Written especially for "Studio One" by Gore Vidal. Directed by Franklin Schaffner.
The Death and Life of Larry Benson (5/31/1954) Starring Skip Homeier, Chester Morris, Peg Hillias and Lee Remick. A soldier comes home to his estranged family after three years, but he is the wrong man! Written by Reginald Rose.
Vol. 9: Summer Pavilion (5/2/1955) A mother and daughter clash between the old and new ways of the South. With Miriam Hopkins, Elizabeth Montgomery, Charles Drake. Written for "Studio One" by Gore Vidal.
The Arena (4/8/1956) Written especially for "Studio One" by Rod Serling. With Wendell Corey, Chester Morris, John Cromwell, Leora Dana. Political drama about a new Senator appointed after a death, and his battles with the senior senator from his state. Directed by Franklin Schaffner.
Vol. 10: The Medium (12/12/1948) Madame Flora conducts bogus seances to bilk grieving parents, but during one seance she feels hands around her neck and panics.
Julius Caesar (8/1/1955) A modern dress adaptation of the Shakespeare play starring William Post Jr., Philip Bourneuf, Ruth Ford.
Vol. 11: The Hospital (12/8/1952) Victor Jory, Leslie Nielson, Nancy Marchand in prototype of all TV hospital dramas. Directed by Franklin Schaffner.
Mutiny on the Nicholette (12/3/1951) Boris Karloff stars as Captain Skagg, who is replaced on the voyage by another man while they run weapons to North Africa.
Vol. 12: The Rival Dummy (9/19/1949) Gabbo, a ventriloquist meets a pretty blonde and asks her to become his assistant. He is a hit at the Palace, an old vaudeville theater, Pepe his dummy objects and refuses to perform.
No Tears for Hilda (5/7/1951) A major in the Armed Forces attempts to clear his pal who is accused of murdering his wife.
---