Tate
(1960) The adventures of a one-armed gunfighter (he lost the use of an arm during the Civil War) in the Old West. Stars David McLean
---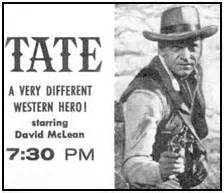 Vol. 1: Voices of the Town 7/6/1960. Out to capture Frank Turner, Tate is caught in an ambush by Mrs. Turner and forced to shoot her. Angry townsfolk rise up in protest.
A Lethal Pride 7/20/1960. Manuel Arriega hires Tate to track down a fugitive from justice. Bent on revenge, Arriega wants the man killed on sight, but Tate insists on bringing him in alive.
Return of Jessica Jackson 9/14/1960. Tate is hired by frontiersman Milo Jackson to find his wife Jessica, who has been abducted by the Paiute Indians.
Before Sunup 8/17/1960. A cold-blooded gang of outlaws seriously wound Otto, and then bet on long he'll live. Tate guards the wounded man from Clay Sedon who wants to insure his bet.
Vol. 2: Bounty Hunter 6/22/1960. Tom Sandee believes that Tate is a fugitive from justice and goes after him. With Robert Redford.
Comanche Scalps 8/10/1960. Lucy was engaged to Amos Dundee, and she got married. There was just one small change in plans, the bride-groom was Amos' brother Tad. And now Amos plans to kill his brother.
The Gunfighters 8/31/1960. A rancher owes his employees a year's wage of two cattle each. They hire Tate to help them collect. Soon Tate and the ranch hands are faced with an ambush.
Home Town 6/8/1960. Tate returns to the town of his boyhood to repay a debt to a friend.
Vol. 3: Mary Hardin Story 6/29/1960. Tate gets a plea for help from a pretty widow. A man named Tetlow is trying to force her into giving up her land.
Quiet After the Storm 9/7/1960. A girl is shot by a jealous suitor named Coley, and Tate takes after the man, hoping to reach him before a lynch mob does. He tracks him to his home and meets Jesse, Coley's aged father.
The Reckoning 8/24/1960. Stalking a killer named Abel King, Tate falls ill. He is nursed back to health by King's daughter Lulie.
Stopover 6/15/1960. Tate is forced to shoot Ben Tracy, who is known as the fastest gun. Then he faces the wrath of young Will Smith, who wanted to launch his own gunfighting career by outdrawing Tracy.
---