The Veil
(1958) Boris Karloff both hosts and stars in this short-lived series about the supernatural that never aired on TV when it was made. Only these ten episodes were made.
---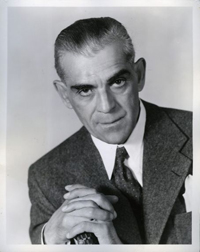 Vol. 1: The Crystal Ball A flighty French girl leaves her lover to marry his boss. As a parting gift, she gives him an ornamental crystal ball. This is a distraction, since the crystal shows him scenes of her carrying on with other men behind her new husband's back.
Two Sons A no good son returns home to his father's deathbed to steal any inheritance from his mother and good brother.
The Gloucester Captain A sea captain takes his estranged wife on a sea voyage to get rid of her, but her ghost returns.
Jack the Ripper A clairvoyant, in dreams and visions, sees a series of grisly murders in London's Whitechapel district. But his knowledge of the details of the crimes makes him a suspect in the eyes of the police.
Vol. 2: Summer Heat A man witnesses a robbery and murder in the apartment across the street from his own. When the police are called, it is discovered that the apartment is empty. Has he seen what he thinks he has seen? Are we dealing with the past, the present or the future?
The Return of Madame Vernoy Young Santha would like to marry her suitor, except she is still married to her husband from a previous life.
Destination Nightmare A young man, badgered by his father to work in his aviation company, sees a vision of a man while on a routine air-flight. The vision tells him to go to a certain location and he does...in a trance.
Vision of Crime While on a boat trip to Paris, a man has a vision in which he sees his brother murdered. He returns to England to discover that his brother has been killed and that a man he knows isn't the murderer is the prime suspect. Who is the murderer and how will the man ferret the killer out without mentioning his vision and seeming like a nut-case?
Vol. 3: Two episodes of The Veil:
The Doctor A young doctor attempts to save the life of a girl, and is unexpectedly aided by his own father.
Girl on the Road A man tries to help a beautiful woman stranded by the road and threatened by a mysterious stranger.
Plus:
Suspense: "Black Passage" (11/1/1949) Live TV episode based on story by Robert Lewis Stevenson. A priest guides a traveler to a strange inn and warns him not to leave his room that night.
Plus:
One Step Beyond: "Moment of Hate" (10/25/1960) A successful but driven businesswoman is convinced that she can make her thoughts become reality. She soon begins to believe that she can use the power of suggestion and turn it into the power to kill.
---