Betty White TV Shows
Life With Elizabeth
(1952-1955) With Betty White, Del Moore and announcer Jack Narz. This domestic comedy did not have episode titles. Each show consisted of three separate episodes in the life of a married couple, with the emphasis placed on gentle comedy and more talk than action.
---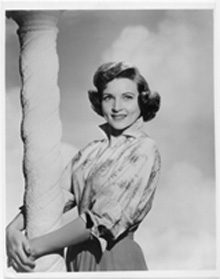 Vol. 1:
Bad Mood / First Kiss / Ex-Flame 1. Alvin comes home from work and finds Elizabeth in a foul humor;
2. Elizabeth and Alvin recall their hesitant first kiss;
3.Alvin becomes jealous when Elizabeth invites an old beau to dinner.
Phone Calls to Work / Girl Scout Trip / Census Taker 1. Elizabeth pesters Alvin with her constant inconsequential phone calls to his office;
2. Elizabeth asks Alvin to quiz her on the Girl Scout leader's handbook to ensure she's prepared for her first camping trip
3. Elizabeth bedevils a poor census taker.
Bonus Check / House Cleaning / Richard's Mustache 1. Elizabeth and Alvin are planning a long weekend, but they can't until Alvin's bonus check arrives in the mail.
2. Elizabeth comes down with the urge to do some serious house cleaning;
3. Elizabeth and Alvin try to patch up their neighbors' matrimonial squabble regarding a shaved mustache.
Oak Tree / TV Repair / Drive-In 1. Elizabeth tries to convince Alvin to let her plant an oak tree in the middle of their patio.
2. Alvin attempts to repair his malfunctioning TV set.
3. Elizabeth and Alvin attempt to deal with a charmless carhop at a drive-in movie theater.
Vol. 2:
1) Moosie in the Kitchen / Jungle in Living Room / Underhills for Dinner
2) Black Eye / Momma for Breakfast / Missing Receptionist
3) Scared Silly / Neighborhood Slingshot / Elmer's Garage
4) The Psychic / Car Repair for Dummies / Bird Bath
Vol. 3:
1) Nursery Rhymes / First Business Trip / Lake Allergies
2) Mam's Visit / Bicycle Picnic / Nosey Neighborhood
3) Photographer / Of the Honeymoon / Numb, Deaf and Blind
4) Mam's Letter / Lodge Dinner / Richard Gets Fired
Vol. 4:
1) Ping Pong / Leaking Roof / Vacuum Cleaner Salesman
2) Learning to Drive / Day They Moved In / Alvin Asks Boss Home
3) Article on Carpentry / Hypnotism / Home Movies
4) Balance Check Book / Late for a Party / Piano Tuner
Vol. 5:
1) Car is Stolen / Fence Needs Painting / Real Estate Deal
2) Collection Agency / Monster with Green Eyes / Good Neighbor Policy
3) Detective Stories / Writing a Speech / Moosie on the Patio
4) Everything Goes Wrong / Tenderhearted with Animals / Babysitting Eddie Miller
Also available on Mpeg2 only:
1) Day Off / Varnishing Floors / Singing Lesson
2) Lobster Dinner / Outdoor Cleanup / Sea Trip
3) Morning Grouch / Shopping Trip / Tax Day
4) Not for the Birds / Sleep Problem / Bowling Night
5) Psychological Study / Mental Telepathy / Golf Practice
6) Relaxing Afternoon / Hanging Drapes / Bulldog Smith
7) Scuttled Schooner / TV Aerial / Dueling Ping Pong
---
Date With the Angels
(1957-1958) Domestic sitcom centered around young Los Angeles newlyweds Gus Angel (Bill Williams) and Vicki Angel (Betty White).  Richard Deacon plays neighbor Roger Finley.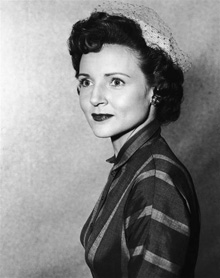 Vol. 1: The Feud 6/14/1957. Just before an expected visit from Gus's boss, Vickie and Gus are involved in a dispute with Mr. Finley, who drove his car over their neighbor's front lawn.
The Wheel 5/24/1957. A visit from Vickie's teenage nephew sets the Angel household awhirl. When it appears that young Wheeler has no use for a sweet young thing sent over to meet him, Vickie and Gus take sides.
Pike's Pique 8/2/1957. Vickie and Gus go to a carnival and are proud of all the prizes they've won. But when they meet up with their neighbors, the Murphys, and Gus's loot looks mighty puny beside the other couple's.
Chip Off the Old Block 12/6/1957. The Angels' neighbors the Murphys have a son in the Navy. Murphy has always spoken of his son as a he-man sailor. But home on leave, the son reveals that his Navy work is as a musician in a band.
Vol 2: Tree in the Driveway 6/7/1957. The city plans to remove a stunted oak tree from the front of the Angels' home. Vicki decides to start a petition to save it.
Return of the Wheel 9/6/1957. Wheeler, Vickie's teenage nephew, is sent to California to forget a girl. Vickie plans to pair him with a neighborhood girl.
Everybody's Baby 9/20/1957. Vickie's neighbor, Wilma Clemson, is expecting a baby. Gus arranges to have the nervous father-to-be, George, sent out of town for a rest. But Wilma's baby arrives early.
The Train 1/8/1958. The Angels go on a train trip with their neighbors. There are problems when the wives find the boys are a little "too helpful" toward the tall brunettes and pretty girls in the Pullman car!
Vol. 3: Double Trouble 1/15/1958. While on vacation, the Angels stay at a hotel where a a lounge singer that looks and sounds exactly like Vicki has a fight with her gangster-type boyfriend.
Shall We Dance? 6/21/1957. Vickie and Gus are unable to get out of helping friend Finley plan a show for the local boys Club. What started out to be the demonstration of splitting an atom, somehow ends up a musical.
Catered Party 9/27/1957. The Angels invite some upper class couples to a Hawaiian luau in their humble home in order to sell them insurance.
A Day at the Track 12/27/1957. In an attempt to lose an insurance deal, Gus finds it necessary to spend time at a race track. His efforts nearly ruin the deal when he and Vickie are tempted to try out a sure-fire betting system.
Vol. 4: The Blue Tie 7/12/1957. Vickie Angel goes to buy Gus a gift in a department store. While there she's asked to take a job as a salesgirl for one day and accepts. There are complications when Gus finds her working -- he made it clear previously that he does not want his wife working.
The Surprise 7/26/1957. Both Gus and Vickie are in for a surprise. Gus had planned to surprise Vickie with a trip to San Francisco for her birthday. But she loaned their luggage to a neighbor and agreed to "dog sit" for the entire weekend.
High Fever 5/24/1957. Gus is sick with a high fever. Vicki does her best to help out, but takes him to see an obstetrician.
Star Struck 10/25/1957. Vickie boasts to her neighbors that singer Dennis Day has dropped in to ask her opinion of a new song. She's dismayed to find that no one believes her story.
Vol. 5: The Gorilla 9/13/1957. A stuffed gorilla greets the Angels in their living room when they return from their vacation. Gus decides to turn the tables on a gang of practical jokers by hiring a famed gorilla impersonator.
Diane 11/1/1957. Assuming Vickie will be glad to meet one of his old acquaintances, Gus brings home Diane, an ex- girlfriend. But when Gus and Diane revive old memories, Vickie feels left out.
The Burglar 11/22/1957. Vickie is unable to convince anyone that a burglar has been in the house during a night when Gus was out of town on business.
Francis Goes to School 1/22/1958. Mr. Finley, the Angels' next-door neighbor, comes to stay with them when his son begins conducting experiments in dog psychology on a stray canine. Then the Angels learn that their other neighbors, the Murphys, are searching for their missing dog.
Also Santa's Helper 12/13/1957. Vickie tries to find a suitable outlet for Mr. Finley, Sr.'s (Burt Mustin) energy, so she enlists the help of her friend Dolly to get him a job in the local department store as one of Santa's helpers, who promptly begins giving away merchandise.
---