Captain Z-RO
(1955-56) CAPTAIN Z-RO and his associates experiment in Time and Space via their Time Refractor apparatus and space ship. They become involved with notables of the past and events of history, such as Ghengis Kahn, The Battle of Chalon, Christopher Columbus, Leonardo DaVinci, etc.
---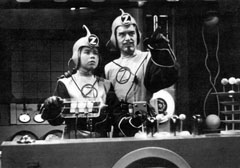 Vol. 1: Christopher Columbus 12/18-1955. Captain Z-Ro goes back to 1492 in order to put down an attempted mutiny happening on board Christopher Columbus' ship the Santa Maria.
Daniel Boone 12/25/1955. Captain Z-RO and Jet travel back in time to see Daniel Boone as a boy and his adventures dealing with Indians.
Marco Polo 1/1/1956. Captain Z-RO provides extra protection for Marco Polo against opposing warlords.
Benedict Arnold 1/8/1956. Z-RO's mission is to warn General George Washington that Benedict Arnold is about to betray him to the British.
Vol. 2: King John 1/15/1956. Z-RO and Jet become a part of the signing of the Magna Carta.
Ferdinand Magellan 1/22/1956. Ferdinand Magellan gets some much needed help from Captain Z-RO and Jet concerning a mutiny that is about to take place.
Pony Express 1/29/1956. Nether rain nor sleet nor snow will prevent this Wyoming postmaster from getting important mail through, and Z-RO is there to lend a hand.
William Tell 2/5/1956. William Tell is visited by Captain Z-RO and Jet while Tell's troops battle for Swiss independence.
Vol. 3: Roger the Robot 2/12/1956. Captain Z-RO and Jet decide to build their own robot to study how robots work, only they can't control their robot once it's finished.
Blackbeard the Pirate 2/19/1956. Jet gets in trouble while digging for buried treasure and ends up in the den of Blackbeard the Pirate.
Attila the Hun 2/26/1956. Attila the Hun, the warrior leader of the Hunnic Empire which stretched from Germany to the Ural River and from the River Danube to the Baltic Sea during the 5th century, takes Jet captive.
Robin Hood 3/4/1956. The Sheriff of Nottingham is fast on Robin Hood's trail so Captain Z-RO comes to the famous outlaw's aid.
Vol. 4: Washington and Howe 3/11/1956. Seeing that a courier carrying an important message to George Washington at Valley Forge in 1778 is waylaid by the British, Captain Z-RO goes back in time to retrieve the document and help the man escape.
Hernando Cortez 3/25/1956. Hernando Cortez' men are planning to mutiny and steal his gold, so Captain Z-RO attempts to alert the explorer of the danger.
Molly Pitcher 4/1/1956. As Molly Pitcher grows weary during the Battle of Monmouth, Jet comes to help her hold off the British attack.
Discovery of Gold 4/8/1956. Z-RO and Jet look for nuggets as they participate in the 1849 California gold rush.
Vol. 5: Meteor 4/15/1956. As Captain Z-RO and Jet study about heavenly bodies, their rocket ship is about to be destroyed by a shooting star.
Aztec Papers 4/29/1956. While time traveling back to 1519, Z-RO enters the temple of a powerful Aztec war god.
Genghis Khan 5/6/1956. Z-RO travels to the 13th century to learn the reason why Genghis Khan moved away from China.
The Great Pyramid 5/13/1956. The Captain's crew, with the aid of Roger the Robot, attempts to keep looters out of the tomb of King Tut.
Vol. 6: Leonardo Da Vinci 5/20/1956. Leonardo da Vinci is given a peek by Captain Z-RO of the effects that his inventions have had on modern society.
William the Conqueror 5/27/1956. Captain Z-RO is transported into the time of William the Conqueror when an English nobleman becomes the target of murder.
King Alfred 6/10/1956. Time travelers Captain Z-RO and Jet drop in on King Alfred and his fight with the Danes.
Moon Glow / aka Adventure in Space 6/3/1956. Captain Z-RO and Jet encounter a saucer shaped missile in space.
---