DuPont Cavalcade of America
Anthology TV Shows were quite popular in the 1950s. They presented a complete story each week - drama, comedy, western or suspense - with a different cast. This prestige series by Four Star Productions ran for 3 seasons as Cavalcade of America (1952-55) and two more seasons as DuPont Cavalcade Theatre (1955-57).
We also offer these TV Anthology series: Four Star Playhouse, Climax, Westinghouse Studio One, One Step Beyond and others.
---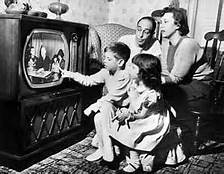 Dupont Cavalcade - Vol. 1

Crisis in Paris - Ben Franklin
(1955) As American's emissary in Paris, Benjamin Franklin has two problems: to negotiate a treaty with the French, and to bring two lovers together.
New Salem Story - Lincoln Legend
(1953) In 1830s Illinois, Abraham Lincoln ("Honest Abe" to his friends) is smitten with neighbor Ann Rutledge. When she dies tragically of illness, Lincoln is inspired to run for state legislature.
Man Who Took a Chance - Eli Whitney Story
(1952) From the necessity of making muskets in defend America. Whitney gets the idea of manufacturing interchangeable parts.
Rescue of Dr. Beanes
(1955) During the War of 1812, Attorney Francis Scott Key observes the British attack on Fort McHenry off the coast of Baltimore and is inspired to write the poem "The Star-Spangled Banner."
Dupont Cavalcade - Vol. 2
Boy Who Walked to America
(1956) Hugh Beaumont. An American Army troop takes in an orphaned Korean boy, but when the troop is sent to France, "Little Joe" has to fend for himself. His dreams of a future in the United States lead him to seek help from good-hearted Americans on a military base in Japan. Based on a true story from The Saturday Evening Post.
The Frightened Witness
(1957) Dan Duryea. A shopkeeper is threatened by a mobster after he witnesses a fatal hit-and-run.
People and General Clancy
(1956) This dramatic true story shows General A.R. Glancy's efforts to help impoverished Duluth, Georgia build a much needed hospital. Starring Minor Watson, Ralph Moody.
Dowry for Ilona
(1957) When Ilona and Miklos get engaged, their Hungarian-American families try to top each other with wedding gifts. Ilona's father, Bela, wants to sell his prized violin to raise money for her dowry. The young couple struggle to preserve Dad's pride and save the family heirloom. Starring Oscar Homolka, Caroline Craig,
Dupont Cavalcade - Vol. 3
Riders of the Pony Express
(1953) Amid great clamor and controversy, the US Government is determined to bring mail service to citizens in California -- and the Pony Express is born.
Chain of Hearts
(1955) Charles Bronson stars as an undocumented immigrant who desires American citizenship more than anything else.
Diplomatic Outpost
(1956) In the Far East, a young American diplomat and his wife cope with a polio epidemic and the threat of civil war.
Dan Marshall's Brat
Trudy Marshall and her family move onto their new frontier farm only to find themselves in the middle of a feud between the miserly rancher Barton, and his nemesis the Calaveras Kid. With Patty McCormack Russell Johnson.
Dupont Cavalcade - Vol. 4
Widow Was Willing
(1957) An impoverished writer is oblivious to the attentions of a widowed seamstress. When he comes into possession of a stolen ledger, their determination to return it to its rightful owner brings them closer together. With Robert Sterling and Anne Jeffreys.
Man Who Asked No Favors
(1957) A drought-ridden community believes that a new minister for their long-neglected church will bring the rain they desire. When the preacher prays for the townspeople to have strength and humility instead of rain, the farmers are outraged. Starring Lew Ayres,
Call Home From the Heart
(1956) Key Luke in the true story of the Japanese gardener who, under the sponsorship of a pioneer civic leader, beautified Miami Beach area with his imaginative planting of lush greenery.
Danger on Clover Ridge
(1956) Robert Horton. Forest ranger deals with a hermit and possible attempted murder.
Dupont Cavalcade - Vol. 5
Date with a Stranger
(1956) An Austrian girl is desperate because she is about to be deported from the U.S. She prays to George Washington for help. This results in a mysterious encounter with a man named Casimir Pulaski.
Decision for a Hero
(1957) Joe Loring, a college football player, doesn't know it, but Dewey Elton, a fellow student, has been writing letters home saying they are best friends. When Dewey dies unexpectedly, his parents arrive on campus and want to talk about him with Joe.
Doctor on Wheels
(1955) A true story of a Saskatchewan farm boy who finished medical school in a wheel chair after he became paralyzed by polio.
House of Empty Rooms
(1957) A widow worries about the years ahead. All the children are living far away, and her house seems increasingly empty and lonely each day.
Dupont Cavalcade - Vol. 6
Innocent Bystander
(1956) Don Taylor stars as a newspaper reporter that has lived his whole life believing in the biblical maxim of "As Ye Sow, so Shall Ye Reap." When he is seriously injured while investigating a juvenile gang fight, he begins to lose his faith.
Jackie Jensen Story
(1956) True story of Red Sox star outfielder Jackie Jensen and Ralph Kerchum, the high school teacher whose guidance and friendship made the difference between greatness or oblivion.
Leap to Heaven
(1957) The story of Bob Richards, young football halfback who became famous as an Olympic pole-vault champion, then moved on to the ministry.
The Listening Hand
(1956) The Hathaways are a deaf and blind couple who fight for their right to keep and care for their newborn baby.
Dupont Cavalcade - Vol. 7
Once a Hero
(1956) Ward Bond, Ben Johnson. An ex-rodeo champion who feels he has failed as a father tries to gain respect in his son's eyes by going back to the rodeo where he was once successful.
Pursuit of a Princess
(1956) Brian Aherne, Fred Clark. Two collectors of historical American carvings compete to find the rarest and most valuable works. Their rivalry reaches its peak when both are given the opportunity to obtain the works of Samuel Clayton, the famous maker of cigar Indian sculpture.
Woman's Work
(1956) Walter Brennan. An elderly man lets his son and the boy's bride live in the family home. His intentions are to turn the girl into a household slave, but she has a different idea.
Blessed Midnight
(1956) Maureen O'Sullivan. A youngster steals a cake from a bakery to give his aunt. With the help of a friend his own age, the boy tries to keep from being caught.
Also have: Three Young Kings (1956) Three young boys are given the responsibility of carrying Christmas gifts to the mission church in the costumes of the Three Wise Men. When they ride through the poorest section of the village, the boys decide to give the presents to the ragged children instead, causing a crisis of conscience in the community.
---